Benefits of the JBFX/HDFX Series Ultra Low NOx Boiler Burners
With the introduction of the JBFX and HDFX series burners, Webster has added the ability to achieve single digit NOx emissions in boilers without the use of Flue Gas Recirculation (FGR). The new JBFX and HDFX ultra low nox burners utilize fiber mesh, surface combustion technology that covers a range from 10HP up to 500HP. The JBFX and HDFX operate by premixing fuel and air to precise levels, which ensures complete combustion with very low levels of CO and unburned hydrocarbons.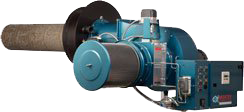 The JBFX/HDFX firing head is made of a proven all metallic fiber mesh that guarantees long lasting, reliable performance. Suitable for use on firetube and watertube boilers, process heaters, and many other applications, the "FX" line of Webster burners will operate with stability and dependable heat transfer in a wide range of operating conditions. Webster's ultra-low NOx boiler burner comes standard with a parallel positioning control system to provide precise control of fuel and air and keep your burner operating safely and efficiently. In addition, the integral blower and burner mounted control panel on the JBFX allow the operator easy maintenance and the owner a low investment.
Webster JBFX/HDFX burners come to you ready for installation and connection to fuel and electrical supplies for quick start-up, saving time and money at your facility.
Combining the JBFX/HDFX boiler burner with Webster's patented Temp A Trim air density trim system provides even more savings and affords the quickest payback of any burner in the industry, as well as the opportunity for energy rebates. In addition, the use of Webster's Temp A Trim system provides a further guarantee that NOx levels will stay in compliance regardless of changing seasons or operating conditions in the boiler room.
JBFX/HDFX Features:
Single digit NOx emissions – guaranteed
No need for Flue Gas Recirculation (FGR)
Fiber mesh, surface combustion technology
Low levels of CO or unburned hydrocarbons
U.L. listed on certain sizes
Heavy duty, industrial construction
Designed for ease of service and maintenance
Quiet operation
Standard or inverted mounting options available
Burner mounted or remote control panels
Linkageless controls – standard
Add Temp A Trim for:
Most efficient operation
Quickest payback
Even lower emissions