Industrial Combustion's product line offers a wide choice of burner capacities from 550,000 Mbtu/hour to 100,000,000 Mbtu/hour. Units provide superior performance in boiler, heater, furnace, kiln, and dryer applications. All units are designed to perform to maximum efficiency with either gas or oil. Combination units afford operators the option of choosing the lowest cost fuel without costly equipment changeover or adjustments.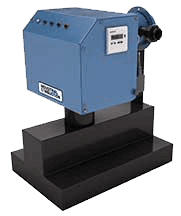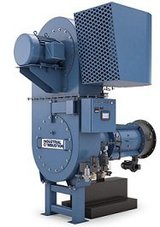 XL/LNXL – FIRETUBE AND WATERTUBE SERIES
Designed for large firetube and watertube applications
Fuels: Gas, #2 Oil, or Combination
Gas Input (Mbtu/hr): 37,800 to 92,400
Oil Input (US gph): 330 to 660
Thermal Output (BHP): 900 to 2,200
Shipping Weight (lbs): 12,000 approx.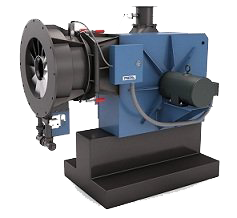 S1/LNS1 – SERIES
Designed for scotch marine and watertube applications
Fuels: Gas, #2-6 Oil, or Combination
Gas Input (Mbtu/hr): 42,000 to 63,000
Oil Input (US gph): 300 to 450
Thermal Output (BHP): 1,000 to 1,500
Shipping Weight (lbs): 7,000 to 8,750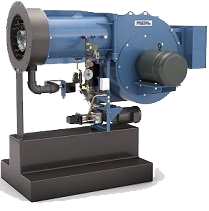 E/LNE – SERIES
Designed for firetube, firebox and watertube applications
Fuels: Gas, #2 Oil, or Combination
Gas Input (Mbtu/hr): 8,400 to 42,000
Oil Input (US gph): 60 to 300
Thermal Output (BHP): 200 to 1,500
Shipping Weight (lbs): 3,150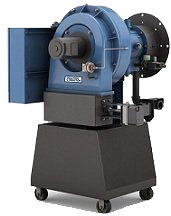 D/LND – SERIES
Designed for a wide range of applications such as boilers, heaters, furnaces, kilns and dryers
Fuels: Gas, #2-6 Oil, or Combination
Gas Input (Mbtu/hr): 3,360 to 42,000
Oil Input (US gph): 24 to 300
Thermal Output (BHP): 80 to 1,000
Shipping Weight (lbs): 1,000 to 5,500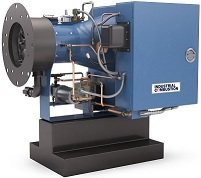 M – SERIES
Designed for a wide range of applications sucha s boilers, heaters, furnaces, kilns and dryers
Fuels: Gas, #2-6 Oil, or Combination
Gas Input (Mbtu/hr): 1,400 to 10,500
Oil Input (US gph): 10 to 75
Thermal Output (BHP): 33 to 250
Shipping Weight (lbs): 450 to 1,250
V/LNV – SERIES
Designed for firetube, watertube and cast iron applications
Fuels: Gas, #2 Oil, or Combination
Gas Input (Mbtu/hr): 1,300 to 16,800
Oil Input (US gph): 9.3 to 120
Thermal Output (BHP): 31 to 400
Shipping Weight (lbs): 450 to 1,450
FP – SERIES
Designed for cast iron, firebox and scotch marine applications
Fuels: Gas, #2 Oil, or Combination
Gas Input (Mbtu/hr): 550 to 4,200
Oil Input (US gph): 3.9 to 30.0
Thermal Output (BHP): 13 to 100
Shipping Weight (lbs): 200 to 400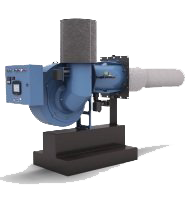 MTH – SERIES
Designed for process heating applications such as thermal fluid system and hot oil heating
Fuels: Gas
Gas Input (Mbtu/hr): 2,500 to 16,000
Thermal Output (BHP): 60 to 380
Shipping Weight (lbs): 700 to 1,250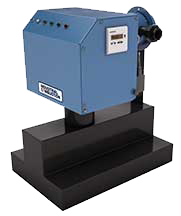 Q – SERIES
Designed for cast iron sectional boilers, firebox, commercial watertube, firetube, furnace and oven applications
Fuels: Gas
Gas Input (Mbtu/hr): 375 to 2,500
Thermal Output (BHP): 9 to 60
Shipping Weight (lbs): 350 to 550