Best-In-Class Burner for Total Energy Savings
Webster's JBE(X) boiler burner is a high efficiency, low excess air burner that incorporates a unique high swirl firing head to improve commercial boiler combustion efficiency. Perfect for hospitals, schools and universities, which are particularly cost sensitive because of tight operating budgets, the JBE(X) achieves boiler horsepower ratings in the 200 to 1,750 HP range using less fuel and electricity than conventional burners. The JBE(X)'s lower horsepower blower motor can result in significant total energy savings, depending on the boiler, burner size and operating conditions.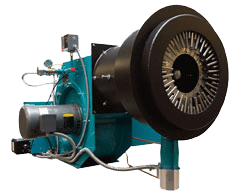 How It Works
Webster has combined their unique high swirl firing head technology with a highly efficient in-line combustion air fan to provide improved mixing of the fuel and air, and lower motor horsepower requirements. This combination allows the JBE series burners to operate with low excess air across a large operating range. Less excess air means high fuel efficiency, and high efficiency combined with high turndown means very low heat loss in your boiler that can result from cycling when a burner is stopping and starting. The end result is that the new Webster JBE will provide fast payback and the best possible return on your burner investment. Contact your Webster representative today so they can show you how much you can save by replacing your burner with a new Webster JBE!
To see how much total energy savings you can achieve annually by using a Webster JBE(X) burner, use this simple calculator to input your data:
Efficiency Comparison Calculator
"Please Provide This Form Embed Code"
Even More Energy Savings
When combined with Webster's patented Temp-A-Trim™, the JBE(X) burner will maintain even lower excess air levels as operating conditions change, saving fuel and electricity and lowering maintenance costs. The JBE(X) is available for Scotch-Marine, firetube, watertube, flextube, firebox, and other heaters and vessel types.
JBE and JBE(X) Features
Excellent flame stability for reliable low NOx performance
Low excess air for extremely efficient combustion
Low Motor HP requirements and highly efficient combustion air fans to optimize electrical efficiency and provide a fast payback
High turndown rates
Up to 12 to 1 on Gas firing
Up to 10 to 1 on oil firing
High turbulence combustion for better fuel mixing
Fire multiple fuels
Natural, LP or Digester gas
No. 2 through No. 6 Oils
Configurable blower housing to match application requirements
Field-proven ignition system with an extremely stable pilot
IFGR system with a shutoff valve in the flue gas recirculation duct to prevent fuel gas from re-entering the burner during the purge cycle
Easy access to firing head, fan and FGR duct for maintenance
Improved air damper with adjustable opening speeds for better turndown
UL/cUL approved up to JBE(X)9-400M for Natural Gas and No. 2 Oil applications
Integral combustion air fan and motor are housed in a single assembly for easy removal and inspection
Fire all types of boilers: Scotch-Marine Firetube, Watertube, Flextube, Firebox, as well as heaters and other vessels
Options for both pressure and air atomized oil systems