JBS(X) High Efficiency, Low Excess Air Burners
JBS and JBS(X) High Swirl burners reduce emissions while providing higher turndowns. With turndown rates as high as 12:1 for Natural gas, JBS and JBS(X) High Swirl burners offer industry leading combustion efficiency with low excess air. Webster's advanced head design is unique in its ability to provide dual manifolds to handle multiple fuels for challenging alternative fuel applications.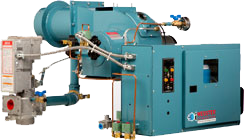 The firing head of the JBS places a high spin on the combustion air for improved mixing and flame stability. This allows the burner to operate with lower NOx emissions. The firing head also keeps the low fire flame off of the burner so that it can operate without heat damage even at high turndown rates. For watertubes, a special refractory is used to promote mixing before the flame enters the boiler chamber.
The JBS burner is available as a standard gas and/or oil-fired burner (Model JBS) and as a low NOx burner (Model JBSX). Both models fire natural and digester gas, LP, and #2 fuel oil as well as a combination of gas and oil. The JBS is also available with heavy, #4 through #6 oil (heavy oil burners are not UL/cUL listed).
The JBS(X) series is offered from 40 to 300 BHP. The entire series is UL/cUL listed for gas and # 2 oil.
Different oil systems are available on both burner models – a pressure atomizing return flow nozzle (to 350 hp) and an air atomizing system. They can also be equipped with a linkage control system and Webster Camnetics fuel control or parallel position linkageless control systems.
Several low NOx options are available, using Induced Flue Gas Recirculation (IGFR). The standard offering includes 60, 30, and 20 PPM NOx on natural gas. For lower NOx levels, select Webster's HDRMB.
Benefits of the JBS(X) High Swirl burner include:
Excellent flame stability for very low NOx performance
High turbulence for smaller furnaces
Field-proven Purlite ignition system with an extremely stable pilot
High efficiency combustion air fans to optimize electrical needs
IFGR system with a shutoff valve in the flue gas recirculation duct to prevent fuel gas from re-entering the burner during the purge cycle
Easy access to firing head, fan and FGR duct
Improved air damper with adjustable opening speeds for better air turndown,
Combustion air fan and motor are housed in a single assembly for easy removal and inspection.