Noxmatic RF ULN
The Johnson Advantage
Sub 9 ppm NOx compliance out-of-the-box
No Flue Gas Recirculation required
High efficiency variable speed blower
Swing open access to all internal components
Precise "linkage-less" burner controls
Simple operation and maintenance
Lower installation costs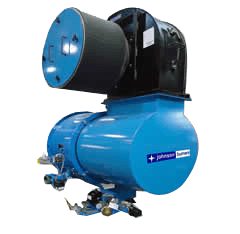 Specifications
Emissions: Sub 9 ppm NOx without FGR
Fuels: Natural Gas
Capacities:
800-1500 boiler HP
Applications: Scotch (firetube) & watertube boilers
Documentation
About
The NOXmatic® RF ultra low NOx burner uses a metal fiber mat firing head and requires no FGR to deliver single digit NOx emissions, making it a simple and cost effective solution for large firetube and watertube boilers. All NOXmatic® RF burners feature a Variable Speed Blower (VSB) package, supplied as standard equipment to provide cost savings with a 20 to 40% reduction in electrical consumption compared to single-speed blowers.
The design also features a swing-open housing that allows easy access to all burner components without removing the burner from the boiler. The firing head, igniter and flame scanner can all be accessed and removed for service in just minutes to minimize down time and service costs.